বনলতা সেন  — জীবনানন্দ দাশ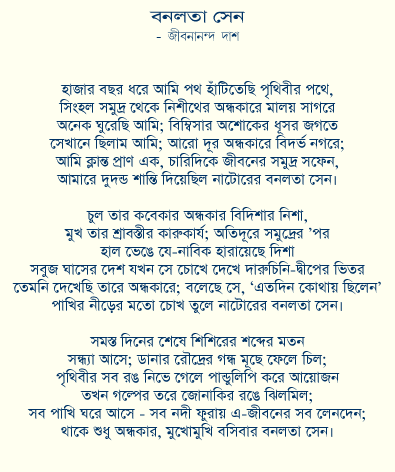 To generate this in Barnamala, you would type in English alphabets (as shown below).
You could even copy the English version (shown below)  and paste it within Barnamala to generate the Bangla output. (After you paste it within Barnamala, select the entire text. Then, from the menu across the top, choose "Phonetic Conversion > Romanize English to Bengali".)
banalat'aa sen
– jeebanaanand'a d'aash
haajaar bachhar dh'are aami path' h(n)aatit'echhi pri'th'ibeer path'e,
sin`hal samud'ra th'eke nisheeth'er andh'akaare maalay saagare
anek ghurechhi aami; bimbisaar ashoker dh'oosar jagat'e
sekhaane chhilaam aami; aaro d'oor andh'akaare bid'arbha nagare;
aami klaant'a praan' ek, chaarid'ike jeebaner samud'ra saphen,
aamaare d'ud'andashaant'i d'iyechhila naatorer banalat'aa sen.
chul t'aar kabekaar andh'akaar bid'ishaar nishaa,
mukh t'aar shraabast'eer kaarukaarj'a; at'id'oore samud'rer 'par
haal bhennge j'e-naabik haaraayechhe d'ishaa
sabuj ghaaser d'esh j'akhan se chokhe d'ekhe d'aaruchini-d'beeper bhit'ar
t'emani d'ekhechhi t'aare andh'akaare; balechhe se, "et'ad'in koth'aay chhilen'
paakhir neer'er mat'o chokh t'ule naatorer banalat'aa sen.
samast'a d'iner shesh'e shishirer shabd'er mat'an
sandh'yaa aase; daanaar roud'rer gandh' moochhe phele chil;
pri'th'ibeer sab ranng nibhe gele paandulipi kare aayojan
t'akhan galper t'are jonaakir rannge jhilamil;
sab paakhi ghare aase – sab nad'ee phuraay e-jeebaner sab lenad'en;
th'aake shudh'u andh'akaar, mukhomukhi basibaar banalat'aa sen.